How to Make Awesome Sports Videos – 5 Tips
As athletes from around the world ascend on Peyong Chang, so do the thousands of people looking to capture the perfect Olympic moment on film.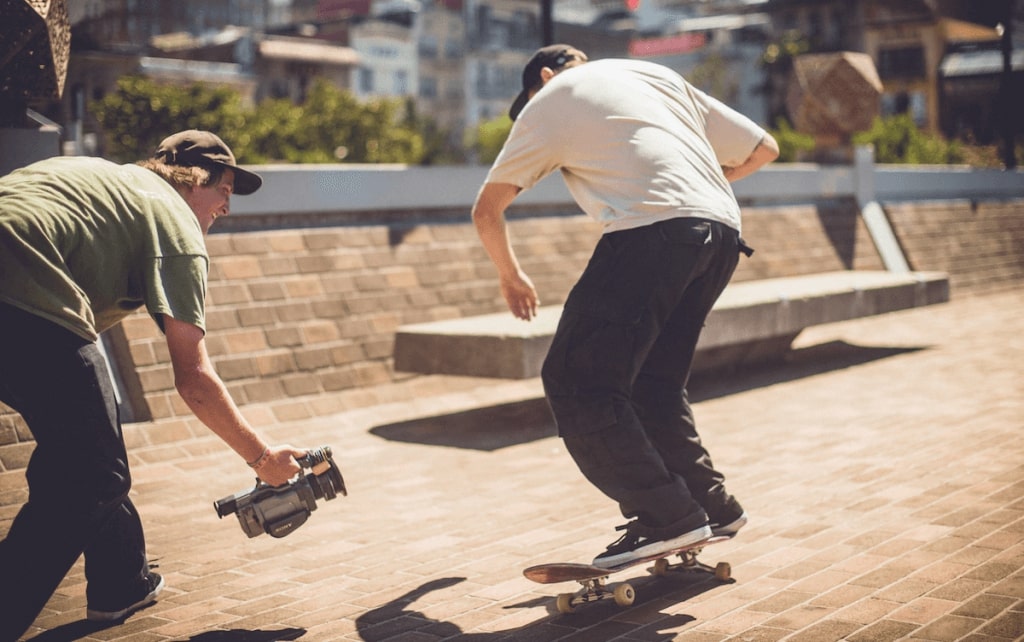 Its Olympic Season! athletes from around the world ascend on Peyong Chang, so do the thousands of people looking to capture the perfect Olympic moment on film.That polished product you see on TV and online is not done overnight, and is the result of years of experience, experimentation, and editing.
We spoke with a handful of industry veterans who have shot every sport ranging from downhill mountain biking to professional All Star games. Here are their five best tips to get you well on your way to creating some stand out sports footage.
Your Equipment Matters
With everyone having a camera at their fingertips, camera manufacturers have been forced to compete with fantastic quality at competitive prices. Combined with a high demand for specialization brings a variety of options for all skill levels.
Things you should consider when buying a camera for shooting sports are shutter speed, autofocus, lighting, size, and durability. There are endless choices out there so here are our top three choices that can fit every type skill level.
We found a great review article on choosing the right camera. Jen Reviews has a comprehensive guide to picking the right camera. They expertly cover everything you need to consider when investing in new camera equipment.
A lot of bells and whistles at an affordable price
Fast Autofocus
Great for all sports, but is made for capturing fast paced action like hockey, winter sports, soccer.
Under $600
---
Cinematic quality
What the pros are using
Used in capturing professional sports regardless of lighting or pace
Starts at $2500
---
Our Favorite Camera
All sports
Great for both indoor and outdoor lighting
Under $500
---
Angle & Position Will Be What Sets You Apart
There is a reason you have see more video being shot at sporting events. The angle and position of a shot means everything. The right shots can bring the viewer closer to the action and pull them out of the spectator role.
Take risks! Experiment with camera sizes that can help capture moments that people may not be used to. The best videographers are the ones that push the envelope to create new perspectives without losing the pace of play or action.
Learn To Work Well With Others
Videographers are invested in their community. With everyone shooting the same thing, it helps to have relationships with the guy or girl shooting next to you.
Shadows, sound, bad angles are just some of the hurdles you encounter when shooting live action. It helps to have extra footage as a backup but you don't need to break the bank doing it. Working relationships are something you should invest in on day one. Make friends with those around you and network through one of the many online communities out there.
Here are our recommendations to help connect with videographers, photographers, and people passionate about video editing.
Meetup
Our Favorite! Meetups Exist In Almost All Major City And Are A Great Way To Learn, Socialize, And Grow Your Network. Our Favorites Up Here In The Seattle Area Include The Creative Freelancers And CoWorking Union, The Seattle Youtube Meetup, Seattle Adobe Premiere Users Group.
Here Is A Link To All Videography Groups That Exist On Meetup Across The U.S.
Stage32
Stage32 Been Described By Forbes As "Lynda Meets LinkedIn For Film, Television And Theater Creatives." It's Primarily A Job Posting Platform But Includes Great Resources For Networking With People In Your Industry.
Check Out Stage32 Here.
Facebook Groups
Groups Can Be Hit And Miss On Facebook. Some Are Carefully Monitored By The Monitor To Ensure High Quality Content And Engagement Occurs. Others Can Quickly Become A Ghost Town. Our Favorites Include Adobe Premiere Users On Facebook, Blender Artist , And Avid Editors On Facebook.
Sound Effects Can Save Your Project
In the late 1990's, sport broadcasters and producers began to play around with capturing the sounds of the game. Those sounds added another layer of quality to the viewing experience and a closer connection between the viewer and sport.
Capturing every important piece of audio is not easy. It's important that you understand the different sounds that are generated and which ones are relative to the activity on screen. The sound of a ski cutting into the side of a slope is much more effective than the sound of poles knocking together. If you find yourself with muffled audio or just want to emphasize the sounds you have captured, we recommend layering on sound effects. Professional sound effects when used properly, can push the viewer in a specific direction and bring new energy to flat video footage.
Stockmusic.net is a great source for sound effects. With over 70,000 sounds created from top industry pros, we cover all sports from skiing and baseball to racing and hockey.
Check out all of our sound effects now!
Give Yourself a Soundtrack
Having a soundtrack to work with during your shoot will help guide your project, and provides structure without over planning. If there is a track you are using as a score for your finished video edit, have some alternatives ready to go. We all know music licensing can be complicated and expensive. Remember that your video is the star and the music should compliment your footage. Foreground music should be built into the narrative, and background music should support it.
Our music licenses are a one time cost for you to use in any project and we provide one of the largest selections of high quality sync music out there. Get started by checking out one of the many hand curated collections we have and start poking around. Save the tracks you like, make new playlists to organize your selections, or just sit back and listen until you find the perfect sound for you video.
Get inspired now at stockmusic.net ...then get out there and start shooting!
Since 2002, these brands and thousands others have trusted our music and tested our licenses