Royalty Free Music With an Edge
Stockmusic.net represents the music of the greatest composers from all over the world. We license music for television, film, advertising, games and apps, even on-hold messaging and background music. Buying royalty free music from stockmusic.net is the easiest way to add background audio to any media application.
We have redefined the standard for royalty free music. By curating only the best music from the world's top composers, we have licensed music in top media productions including Fox, Time Warner, HBO, and more. You may even recognize some tracks from mainstream tv shows and popular television commercials. Every track is legal and affordable. You don't have to worry about copyrights, legal issues or price.
At $39.95 per track for a buyout, stockmusic.net is creating a large stir in the music licensing industry. We make it simple to find the perfect royalty free music you need without the burden and cost of private composition. Our licensing is simple and permissive. For all applications that need audio, stockmusic.net is the easiest way to be fully compliant, while offering only the greatest music available.
TRUSTED BY THE WORLD'S BEST BRANDS: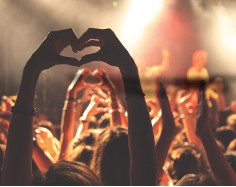 Only The World's Best Music
These are not your typical collections of over-played royalty free music. We accept only the best composers and the highest quality, unique music and sound effects. Every track is individually selected and curated by real people with a real passion for music. Our composers are the best in the industry. Every style and genre is represented ranging from contemporary, hip hop, electronic, pop and rock, to blues, jazz, classical and everything in-between. Although our name is stockmusic, we are anything but "stock". Our hand-curated collections are tailored based on genre, mood, and usage. If you need exclusive rights, we also offer custom composition to help you get the exact music to fit your vision.